Humor
"I don't care to be part of any page that will have me as a member."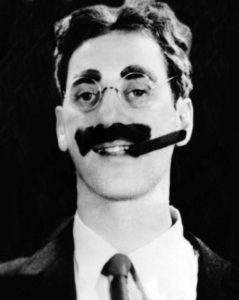 Yet here you are.
Most recent publications listed first …
"The Gardening Hiring Committee I Faced Were All Former Senate Judiciary Committee Members" ~ The Big Jewel, January 16, 2019. Think there's an American setting not infected by politics? ha ha ha ha ha ha ha
"Long Nights in Tabby Town" ~ Doggie-noir in Points In Case, December 26, 2018. "There was a desert wind blowing that night. It was one of those hot dry Santa Anas that come down through the mountain passes and rattle your collar and make the fleas jump off you like cats from a tub. On nights like that every terrier meet-up ends in a fight, and meek little Yorkies tongue their fangs and study their owners' necks."
"The New Weekly Studies Studies This Week's New Studies" ~ In The Short Humour Site, November, 2018. Can't get enough of the constant barrage of earth-shaking new studies? Me neither.
"America's Got Talented Orators! Historic Cage Match Edition" ~ In Connotation Press, November, 2018. Can A.B. Baby, Johnny The Eff Kennedy, and Em L. King impress Judges Bling, Fluffe, and Snyde? If only
"Funeral For A Face" ~ In The Big Jewel, November 7, 2018. What can you say about a Facebook "friend" who has died? Seriously, what?
"The Duck Soup Manifesto" ~ A Marx Brothers-Karl Marx mash-up in The Big Jewel, September 26, 2018.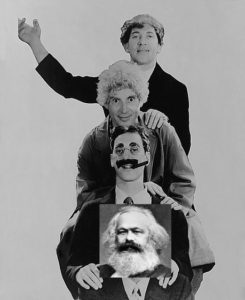 "A Historic Round Table on Civility" ~ Featuriing Abraham Lincoln, a former president; Mark Twain, a humorist; William Shakespeare, a playwright; SumSicChick, a modern American slam poet, activist, and hella influential thought leader who has more than 3,700 followers; and ChunxForBreakfast, a YouTube sensation. In The Short Humour Site, September, 2017.
"Writer's Block: Busted! Political Speechwriters Edition" ~ In Points in Case, September 13, 2018
"The first step, of course, is to avoid mirrors. This is essential if you are to eliminate the risk of looking yourself in the eye."
"Joe's Funeral, Starring Me, Joe's Cat!" ~ How would kitty eulogize you? In The Short Humour Site, August, 2018.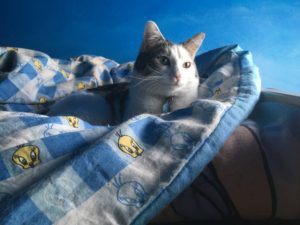 "The Craven" ~ A Poe parody for anyone who has even been less than enchanted by a subway ride. In The Short Humour Site, July, 2018.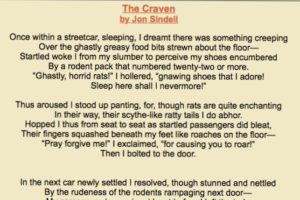 "A Remembrance of Tom by His Longtime Companion, an English Bulldog named Wally" ~ In The Short Humour Site, July 2018.
"IF—Doggerel By Junkyard Kipling" ~ In The Short Humour Site, July 2018. Actual doggerel, with a salute to Rudyard Kipling.
"Movie-Line Outakes" ~ In Points In Case, July 2018. "Forget burritos, Jake. It's Chinatown."
"If anything in this life is certain, if history has taught us anything, it is that you can kill anyone with kindness. Hey everyone, cannolis on me!" ~ Michael Corleone, The Godfather: Part II
"Author Bios From An Extraordinary American Lit Reading" ~ In The Big Jewel, July 18, 2018.
"That summer RAYMOND CARVER rented a little house on the north coast with a drinking buddy named Gus. Ray, Gus said. You should write now. Right now? said Ray. Well, Gus said, I mean, write. Write now, or write later. Ray said, Write what? The window was cracked and a breeze came in. It tasted like salt. I don't know what, said Gus, and waved his hand like he was shooing a fly. Gus had a box of old dry Hydrox cookies from the Safeway. Eat one, he said …"
"When God Spoke to Moses, A Neighborhood Pug" The Ten Commandments—or Dog-Calogue, if you will—for pooches. In Points In Case, July 10, 2018. You can hear me voice the story as well.
"That's Iyerny!" A kid shoplifter with a knack for prose. In riverbabble, June 2018.

"Zee Cabbage Rules" in Defenestration, February 28, 2018. What's in a name? Seven syllables, if your last name is Von Hoffenschnitzenberger.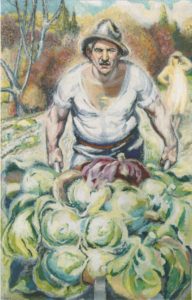 "Sir Rodney Of Dangerfields Takes The Mic," a Rodney Dangerfield–William Shakespeare mind-meld in The Big Jewel, January 17, 2018.
"By the rood I'm an ugly knave. Even as a child I was ugly. One look at me and Oberon tells Titania, "On second thought, you can keep the changeling!" I tell ya, none accordeth me respect."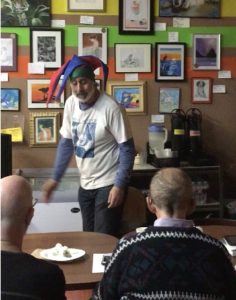 "Literary Outtakes" ~ In The Big Jewel, October 5, 2016.
And so we beat on, like boats against the current, borne ceaselessly into seasickness.
~ Nick Carraway, The Great Gatsby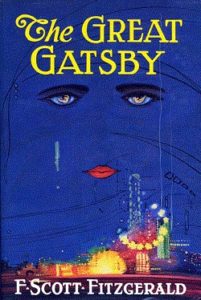 One morning Gregor Samsa awoke from a bad sleep to discover that he was a pimply, scrawny kid in a cube, so he put on a bug suit to freak out his folks. ~ Franz Kafka, The Metamorphosis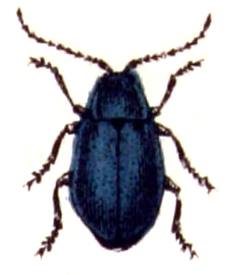 read all of the Literary Outtakes here …
"Bios From a Twentieth Century European Lit Reading" ~ In Thrice Fiction, No. 17, August, 2016. Open PDF and scroll to p. 55.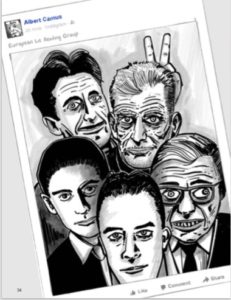 Brilliant cartoon by David Simmer II.
FRANZ KAFKA woke up from a bad night's sleep and discovered that he had turned into a loathsome bug. His disgusted father threw an apple that lodged painfully in his back, and Franz's kind sister, Sophie, filed a criminal complaint against the father for throwing a GMO apple at an endangered species. PETA has caused Franz to be …
read the rest here (scroll to p. 55) …
"Historical Outtakes" ~ In The Big Jewel, June 8, 2016.
Those who cannot remember the past are condemned to miss the jokes. ~ George Santayana
You et too, Brute? So what's with the steak knife? ~ Julius Caesar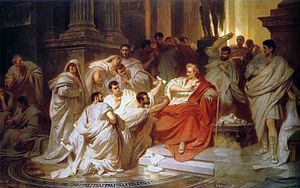 "Book Title Outtakes" ~ In The Higgs Weldon, June 1, 2016.
Doubleplusgood Futuristic Narrative by George Orwell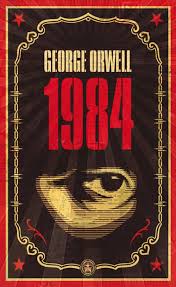 Frankenstein's Not The Creature, Surely You Get That? by Mary Wollstonecraft Shelley
Holden Caulfield's Gnarliest Week Ever by J.D. Salinger
Infinite Text by David Foster Wallace
"Author Bios from an Ancient Lit Reading" ~ In The Higgs Weldon, May 13, 2016.
SIDDHARTHA GAUTAMA, pen name THE BUDDHA, authored The Four Noble Truths and The Eightfold Path. Or did he? He, and I, and you, and they, are free of the illusion of authorship and not attached to the material.

"Grading Bad" ~ In Go Read Your Lunch, a Breaking Bad parody.
"The New Captain Crunch Commercial" ~ In Feathertale, flash fiction. Just what do those bad boys do when they're alone?

"A Swingin' Cat" ~ In Story Shack, flash fiction. A teen goof parties like a teen goof would.